Handmade Pieces to Buy:
I have always been drawn to hand crafted pieces. I love the idea of a story told through the thread, the fabrics interwoven, the imperfections that make perfection because it is unique. It comes from the soul of that person.
The pieces I make are testimonies to love, banners that read: 'Happy Birthday', 'Happy Christmas' and 'Happy New Year' that hang proudly each year.
These are hand sewn patchwork textiles made from recycled, vintage and antique textiles and Bennison Fabrics. Handmade to suit your specification that include children's names for their bedroom door or wall and your baby's first cashmere hand designed quilt for their cot.
I make wedding headpieces and am passionate about sourcing vintage clothing to create unique Page boy outfits. I have a 19th century 3 piece velvet suit that can be made to order (see photo 10 in Weddings)
Other handmade creations include unique headpieces and feather headdresses. Bespoke cards for any occasion. Fabric birthday cards for children and amulet necklaces. My inspiration is constantly being fed by what I see and what I find, so my hand made creations are forever growing and changing...
I also love to individualise bicycles. Get in touch if you want a 'bike makeover'. Hand wrapped in fabric and decorated in wonderful pieces, ribbons and sequins and flowers. If you don't have a bike I can source a vintage bike for you and wrap it.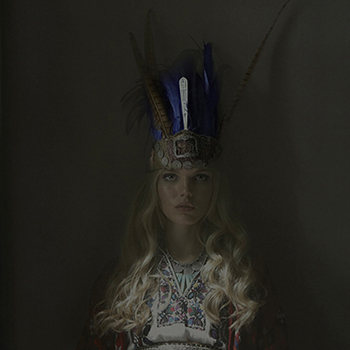 The new collection of headdresses I have made are profiled in Trend Tablet, the inspiring and influential online magazine. I styled the headdresses with my collection of vintage and globally sourced textiles that I have been collecting for many years.